Agronomy Institute Research On Bere
Following a study of the market for alternative and novel crops, the Agronomy Institute (AI) identified Bere as a crop with considerable potential for exploitation, particularly for niche bakery and drinks products. AI research on Bere has focussed on two areas:
• Improving knowledge about growing it under modern agricultural systems (agronomic research).


• Improving our understanding of the quality characteristics of Bere, particularly the flour, and identifying new commercial opportunities for the crop (commercial research).
The Bere Plant
Bere has a number of distinguishing characteristics:
• It is a landrace. This means that it has been produced by farmer selection over many hundreds or thousands of years.


• It is a 6-row barley which means that the grains are arranged in 6 rows down the ear – in most modern barleys the grains are arranged in only two rows down the.
| | |
| --- | --- |
| Ears of barley showing the difference between a modern two-row barley (2r) and Bere (6r) | |
• It is a spring barley - it is sown and planted in the same year.


• It tolerates acidic soils which are unsuitable for most modern barley varieties


• It is damaged or killed by heavy frost.


• It grows very rapidly in the late spring / early summer.

| | |
| --- | --- |
| Modern barley varieties (lower plant) have been bred with short straw. Bere has long straw like most other varieties grown (upper plant) before the 20th century. | |


• Its yields are low - about half that of modern varieties - but it does not require as many inputs (e.g. fertiliser).

• It has long but weak straw so that it often lodges (falls over) close to harvest. Modern varieties have been bred with short straw length so that high levels of fertiliser can be used without them lodging.
| | |
| --- | --- |
| Lodging of Bere (falling over) in the foreground as a result of long straw. The dark area is a plot that received growth regulator, the Bere has not lodged | |
Agronomic Research
When the AI started research on Bere in 2002, there was very little information available about the response of the crop to modern agricultural practices. With few exceptions, Bere has largely been ignored by the scientific community.
As a first step in learning more about the crop, the AI interviewed a number of people in Orkney who had grown it in recent years. This showed that:

• The traditional sowing date for the crop was mid-May and most growers used this as a guide for planting.


• The seed rate used was variable, but between 140-190 kg/ha.


• Apart from herbicide, very few agro-chemicals were used and only low levels of fertiliser.


• Yields of 2.5-3.5 t/ha were usually obtained.


• The main problems in growing the crop were the low yields, lodging and the awns ("skegs") which made the crop unpleasant to handle.
The research programme developed by the AI since 2002 has sought to address the problems identified by growers and to identify other factors which might be restricting Bere yields. In particular, the effects on yield of the following are being investigated:
• Different planting dates.
• Growth regulators to prevent lodging
• Fungicides to control foliar diseases
• Different levels of fertiliser

Trials into the affect of different planting dates on the growth and yield of Bere. The plot on the left was planted mid-May while that on the right was planted mid-April
A postgraduate student, Syed Shah, has been carrying out research on Bere for a PhD since 2007. His research programme is investigating the effects of selected agricultural inputs (fertiliser, growth regulator and fungicide) on growth, yield and grain quality of Bere in comparison with a modern malting barley variety, 'Optic'. He is also studying the effects of different types of growth regulator, and the stage at which they are applied, on the lodging and yield of Bere

Syed Shah

undertaking some angle measurements in a plot of Bere barley
Commercial Research
In 2002, the AI won funding from the Highlands & Islands Enterprise Research Challenge Fund to investigate the nutritional and baking properties of Bere flour. The study was undertaken with other organisations like RHM and the British Nutrition Foundation and has shown that Bere flour has a number of interesting characteristics:

• It is high in fibre and has a yellow colour


• Several minerals are present in wholemeal and white Bere flour in significant quantities (e.g. iodine, iron, magnesium and phosphorus). High levels of zinc occur in wholemeal flour.


• A range of vitamins occur in Bere flours, particularly the B vitamins thiamine, pantothenic acid and folate.
Studies of the bread-making properties of Bere flour were carried out by making loaves with different proportions of wheat and Bere flour. These showed that loaf height and volume decreased as the proportion of Bere increased and that 10-20% Bere flour gave the most acceptable loaves for texture, crumb colour, taste and smell.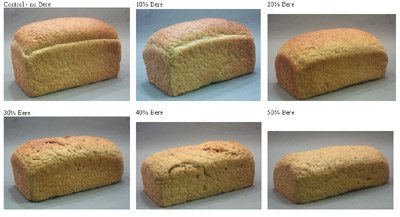 The above picture shows the effect on loaf height by using different proportions of Bere and wheat flour.
Information from the research Challenge Fund project will be important in expanding the market for Bere flour.

New commercial products containing Bere are being investigated with funding from

the Leader+ programme in collaboration with Highlands and Islands SMEs:
| | | |
| --- | --- | --- |
| • A whisky is being developed with Highland and Islands Distilleries | • A beer has been produced with Valhalla brewery, Shetland | • A barley water is being produced with Crantit Dairy |
| | | |