Agronomy Institute Research & Development Activities On Biomass Crops
Introduction

The Agronomy Institute (AI) has a major research programme investigating the potential of biomass crops as sources of wood fuel for windy, northern areas like Orkney. This research is driven by:
A high level of fuel poverty in these areas which is partly caused by the need to use heating for more months of the year than in more southerly areas

The dependence of areas like Orkney on oil, coal or electricity for heating, and therefore the need to find cheaper, more sustainable alternatives to fossil fuels

A lack of established biomass resources (e.g. existing areas of forestry)

The potential for creating new sources of income in peripheral areas
The main areas of AI activities are in short rotation coppice (SRC) and short rotation forestry (SRF) and these are summarised below.

Short Rotation Coppice (SRC)

SRC involves the establishment of fast growing woody species, usually willow (Salix spp), planted at a high density (c. 16,000 trees/ha) and harvested on short cutting cycles (usually 3 to 4 years). Some of the main SRC projects in which the AI has been involved are described briefly below.
Orkney Housing Association Ltd. (OHAL)
AI research on SRC willow started in 2002 with a small-scale trial on willow in collaboration with OHAL which was interested in the potential of the crop as a source of wood chips for its housing developments. Promising results from this trial led to larger areas of willow being established, principally to test a wider range of clones, at Muddisdale (2006) and Papdale (2007). These trials were aimed at identifying the best clones for the Orkney climate and quantifying biomass production. In total, the trials included 13 different clones which were commercially available at the time. Establishment of the trials also provided an opportunity to test different types of willow planter. Early monitoring of the 2006 trial was carried out by Burkart Dieterich, as part of a research-based MSc.
| | |
| --- | --- |
| | |
| Planting a willow trial at Muddisdale (Kirkwall) in 2006 | The willow clone Sven at Muddisdale at the end of the third season after cutback |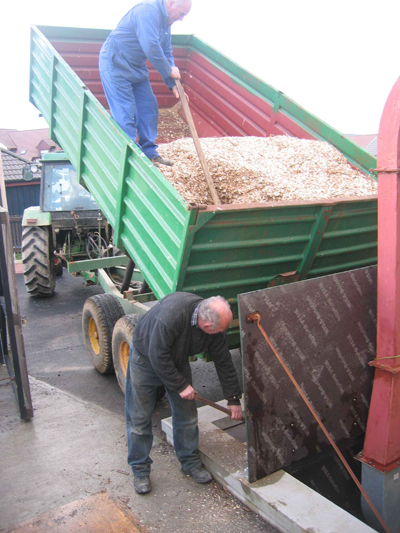 Delivering willow wood chips for test burning to Orkney Housing Association's Lynn Road housing development

PELLETime Project

From 2008 to 2010 the AI was involved in the Northern Peripheries Programme PELLETime project (www.pelletime.fi) with partners from Finland, Sweden, Iceland and mainland Scotland. The project aimed to address shortfalls in pellet production by expanding the raw material supply and encouraging SME participation in the. market One of the AI's contributions to the project was to run field trials investigating several crops as potential sources of biomass for small-scale pelleting (https://docs.google.com/file/d/0Bzclbo6G1X9ONTc1NjY3NzUtNTllYS00MDg2LThjOWEtNjhjOWRlNzQ2Mzlk/edit?pli=1). These included monitoring of the willow trials at Papdale and Muddisdale which was mainly carried out by Fay McKenzie, as part of an MSc research programme. Within the PELLETime project, a prototype small-scale willow harvester (https://sites.google.com/site/pelletime/small-scale-harvesting-machine-for-willow) was developed by JLB Design Ltd and this is still under evaluation.
| | |
| --- | --- |
| | |
| Prototype small-scale willow harvester being tested at Muddisdale in 2011 | Willow trial at Papdale after harvesting (4 years after cutback) |
Northern Isles Stakeholder Trip To Northern Ireland

In order to help raise awareness about the potential of biomass as a heating fuel, the AI organised a study tour (http://www.agronomy.uhi.ac.uk/Final%20report.pdf) to Northern Ireland for a number of stakeholders from the Northern Isles in October 2010.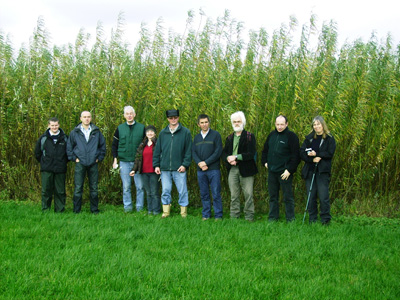 Northern Isles biomass stakeholders on a study trip to Northern Ireland organised by the Agronomy Institute
Collaboration With BBSRC Sustainable Bioenergy Centre – Biomass Programme

(http://www.bsbec-biomass.org.uk/
Collaboration between the AI and BBSRC Sustainable Bioenergy Centre researchers at Rothamsted Research and Imperial College has helped to demonstrate a clone-specific effect on the composition of willow stems which increases the availability of sugars and occurs under conditions where reaction wood is produced (e.g. in windy environments). This could increase the viability of using willow as a source of second generation biofuels (http://www.biotechnologyforbiofuels.com/content/5/1/83).
Short Rotation Forestry (SRF)

For SRF, trees are planted at a closer spacing (c. 2,000-3,000 trees/ha) than for normal forestry, but not as close as for SRC. Fast growing tree species are used, with the objective of harvesting them at about 15-20 years. Several of the species used can be coppiced so that they should regenerate after harvest. SRF is considered to be particularly suitable for the establishment of small areas of woodland on farms where the wood could have a range of end-uses, including firewood.
The attraction of SRF in Orkney is that land owners are often interested in planting small areas of woodland, usually for non-commercial reasons, and are already using a close spacing as this provides trees with mutual protection from the wind. Close planting, however, eventually results in a need for thinning out and for some species, coppicing may be necessary to prevent trees from becoming too large and susceptible to wind damage. Thinning out or coppicing could provide an opportunity for growers to use or sell the harvested wood for firewood, as the market for this has expanded considerably in Orkney, in recent years.
A major advantage of SRF for small-scale growers in remote areas is that harvesting and processing into a utilisable fuel (split logs) can be achieved without the need for costly, highly specialised machinery. In contrast, SRC is usually processed into wood chips and requires access to a dedicated harvester and, depending on harvesting method, a wood chipper .
Orkney Short Rotation Forestry Project
Since 2011, the AI has been collaborating with Forestry Commission Scotland and is in the process of establishing SRF trials with farmers on Orkney. These will concentrate on investigate the growth of different tree species and will provide information on SRF under Northern Isles conditions to complement those already established by the Forestry Commission on mainland Scotland (http://www.forestry.gov.uk/forestry/INFD-85UFMB) .
| | |
| --- | --- |
| | |
| Sycamore trees planted with a close spacing in Orkney | Establishing SRF at Muddisdale, 2013 |